Fire the Phone Company and Keep Your Landline with ooma
This little review may save you a few thousand dollars over the next few years.  Let's assume you still have a landline at your home or small office for clear call quality and no dropped calls.  The cost? About $49/month.  That's $588/year.  Over a ten or twenty year period, that's $5,880 and $11,760 respectively.  What if you could pay $250 one time and never have a phone bill again?  You can with ooma, yes with a lowercase "o" in ooma.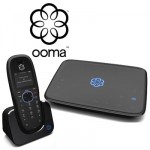 You can do the same math with MagicJack, but the call quality is simply not acceptable to most humans.  Read the reviews.  Vonage perfected the technology of VOIP (voice over internet protocol) years ago, but the business model is good for Vonage.  You still get to pay monthly, only the fee is less.  ooma lets YOU pocket the savings of using VIOP.
Fork over the one-time cost of $250 and enjoy local and long distance calling with a local number forever over your broadband line.  See GeekBrief.tv for additional product review.
I bought my ooma Telo (base unit) and handset the InvestmentBuddy way, over ebay and saved enough money to buy the $49 handset and still be under $250.  Units may also be found at Amazon, or buy searching Froogle.com and sorting by price.
I ported my number I had held for over 25 years and presto … callers now dial the same number they have dialed for years and their voice arrives via my VIOP connection.  ooma has a variety of optional services that are available for nominal upcharges, like a second line, converting voice messages to text messages to your cellphone and a host of others.  The basic (FREE) version, however, compares favorably with the $50 landline package from AT&T with caller ID and three-way calling.
In the transition period as my old landline number was being ported (transfer) to ooma, there were some strange messages for about 3 days.  You also have to have a stable internet service provider (ISP) and I recommend a battery power backup for your router, ooma Telo and your cable or dsl modem.  You should want that anyway.  Bottom line, buy your ooma Telo and handset.  Port your number for another $40 and never have another phone bill, ever!  Save thousands, like the InvestmentBuddy.