How To Buy Your New HDTV Television and Save a Bundle
So you want to buy a new HDTV (High Definition Television) and save a bundle of money at the same time.  This is a step by step process that you can repeat.
Back in 1995 I was in in a Target looking for a TV for an apartment I was using in a major US city where I was working for a few months.  I wanted a TV that would be about 21″ (measured diagonally) Before I arrived, the store had marked-down the floor models.  The TVs had fingerprints on the screens, which could easily be cleaned with a squirt of Windex(R).  Some had a few scratches on the case.  I inquired about a 27″ model that had already been unplugged from the cable and electrical connection.  The salesman told me I could return it for a full refund if it did not work.  I asked him if he could provide me with the remote and cord, which were not with the TV.  He called for the manager.  I am not sure what he told the manager, but the manager walked up to me and said, "We can't take more than 40% off the price on the clearance tag." Hmm.  Well, that had nothing to do with my question, but OK.
So, there was a $499.00 TV that was marked down to $300.  Now I could check out for $180 and have plenty of money left for the remote.  They found the cord.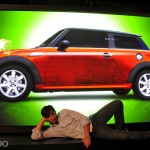 The TV became our primary TV in our primary residence.  I figured I would replace it with one of those HDTVs when it blew up, but it never did.  After being the last guy on the planet without a HDTV, except perhaps you, I decided to buy a HDTV for my wife for Mother's Day.  I searched all the big box stores and scoped out the market.  Then I went to WalMart to see what they had.  The space I had to work with is 41″ horizontally, so I could fit what most manufacturers call a 42″ (measured diagonally) TV.
During my trip to WalMart, I noticed that they had marked down their entire line of Phillips(R) HDTVs.  I could not conclude if they were ending their relationship with Phillips, like they did years ago with Rubbermaid, or if this represented a change in the line, or a model year change.  Nevertheless, the $750.00, 42″  HDTVs that WalMart usually sells for $628.00 were marked down to $498.00.
I told them I would take one.  The clerk went to the back of the store and came back with the "sad-face." The computer said they had three 42″ Phillips HDTVs, but none were found.  I asked her if she could check other stores in the area, and she said she would.  A store across town showed three also, so she called. Further check indicated only one.
I rushed over to find that the only one was the display model.  A quick inquiry indicated that they could take 30% off for the floor models, that were actually "wall-models."  I started to have a flashback.  They looked for the remote.  Nothing there either.  Shortly thereafter, I walked out with a 42″ HDTV for $348.00 plus $7.00 for the remote.  Oh, they did not have the stand either.  I was originally planing to mount it on the wall.  The InvestmentBuddy says "Don't buy the $100 wall mounts bought locally."  They are the same as the $25 mounts sold online.  Check eBay and Amazon.com.
When you are done, rent Ernest Goes to Camp in High Definition and enjoy.