It's A Boy! – Start That UGTMA Account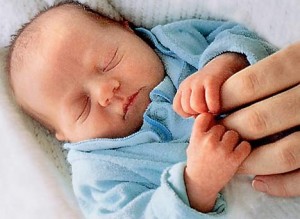 When is the right time to start investing in your child's college education?  You can wait until you get home from the hospital.  After all, there are more important things to do then.  But don't wait too long.  There are many important things you should do for your infant when  he or she is young.  One of them is to begin a savings plan.
There are a few "Freebies" that the US Government provides for investors.  This may also change in the next few years as the government looks for ways to pay for entitlement programs, the Stimulus Plans of 2009 and 2010 and President Oboma's healthcare plan.  None of the items above have been paid for, and we are working off of borrowed money.
The most valuable way to save for your child's college, wedding or emergency is through a plan called the Uniform Gifts to Minors Act account (U.G.T.M.A.) The program is simple.  The child pays taxes on the passive income that the account accumulates at the child's tax rate.  REPEAT:  Passive income, such as interest and dividends, is taxed at the CHILD'S TAX RATE.  This should be 0% unless you have contributed an obnoxious sum of money into the account.
So, here is the plan:
Take baby home.
Locate food, diapers, etc.
Love and care for baby.
Open a Uniform Gifts to Minor's Account for your precious one.
We did this for our three children before they were in elementary school.  It provided a tremendous savings account by simply making a number of small monthly contributions.  There are many instruments that can be used, including savings accounts, mutual funds, bonds and common stocks.
We chose to buy stock through a Dividend Re-Investment Plan (DRIP) for each child.  Our first child accumulated McDonald's stock.  The second one, Dow Chemical, and the third one, Johnson Controls.  They were initially purchased through the National Association of Investment Clubs (NAIC) Dividend Reinvestment Plan.  This plan was made available to individual investors and is now called the Better Investing Community.
Compounding and reinvesting is a phenomenal principle.  Although all the of our selections did well, McDonald's and Johnson Controls "hit it out of the park."  As always, don't make investing a monthly decision.  Decide one time to invest automatically through a bank draft or automatic process.  Set it and forget it … just like Ron Popeil's Showtime Rotisserie.
Start early.  Start small.  Reinvest dividends and earnings. Watch it grow tax free, in most cases.  remember UGTMA accounts are taxed at the child's tax rate.   After you see the value of appreciation, you will WANT TO make the monthly contributions larger, and you will.  Good Luck from your InvestmentBuddy.