The ONLY Way To Budget For Your Daughter's Wedding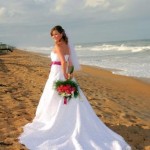 As you read trough the posts on InvestmentBuddy.com, you will pick up many helpful tips that will help you in everyday life.  But this one tip is worth all the time and energy it takes to read through all these posts.
Now the old InvestmentBuddy will not just speak in generalities here.  I'll give you specifics about how you can save thousands of dollars on your daughter's wedding.  I am writing from experience.  This is real how-to information.
I am the father of two daughters and a son.  The first daughter got married first, as it should be.  We wrestled with the cost of the flowers. We discussed the cost of the cake, how much it costs per slice, how much it costs per person, how unreasonable the total cake cost is, etc.  Discussions about the dress made my head almost explode.  This was before WeddingDressMarket.com. We debated the cost of the catering.  How much food is enough?   How much food is excessive?  We discussed the candles, ribbons, and the ring pillows.  The girls would eventually flee whenever I entered the room.
The mother of the bride (my wife) and my first daughter simply did not want to discuss the details with me.  I, on the other hand, knew that it was ALL ABOUT THE DETAILS.  If you overspend on every item, you will overspend on the entire wedding.  This was certain.
Daughter #1 eventually got married and spent approximately $12,500.  The costs were recorded in Quicken in a specific category.  Unless the girls "rat-holed" money for the wedding for a long period of time and spent it in the time period preceding the wedding, which I don't think they did, I was reasonably sure we threw a $12,500 wedding.
These weddings were in the South.  Money goes a long way and the guest are usually treated to finger food at the church reception hall, and not to sit-down drinking and dining at the country club.  There is some of that here but that is covered in another post about not following the crowd.
Several years after our first daughter was married, our second daughter got married.  I was quickly reminded of how much "help" I was for Wedding Number 1.  We quickly devised an win-win plan.  At an early age, we started a Uniform Gifts to Minors Act (UGTMA) account for our children.  See UGTMA article.  For our second daughter, we had invested in Johnson Controls (JCI) which had appreciated and paid dividends quite well.  There was approximately $20,000 in the account, a result of contributing initially $30, and ultimately $50 per month (Involuntarily Investing) into this Dividend Reinvestment Plan (DRIP.)
Our second daughter was on a full scholarship at a major university, and other than living expenses and sorority dues (ouch), her college expenses were taken car of through the scholarships and grants.  We paid living expense and sorority costs with our monthly bills, and her college nest egg continued to grow through reinvestment of dividends and appreciation through her college years.
Halfway through her senior year of college, she announced her engagement.  We met briefly to discuss the budget.  I think we would have all preferred to have root canals.  Immediately the thought surfaced to pay our second daughter a lump sum for wedding expenses equal to what our first daughter received a few years earlier.  Everyone liked the idea because I would be out of the details.  I liked the idea, because I would be out of the details.  The wedding vendors such as the photographers and florists liked the idea ….. You get the picture.
None of our children realized that the UGTMA account was fully theirs at age 18.  That is the law in Texas.  They could have asked for it on their 18th birthday and we could not have denied their request.  It was their money.   This is simply a technicality that we never mentioned and they never inquired about.  They knew we were saving it for THEIR future.   Consequently we were able to give our daughter and her new husband enough money for the wedding plus several thousand dollars to help them begin their new life together.  They watched every penny, as if it were their own … because IT WAS their own.
In summary, the InvestmentBuddy wedding budget formula is simple:
Determine through experience or research what a reasonable budget for your wedding should be.
Cut the check to the bride-to-be.
Go away until you have to walk the aisle and give her away.
In the words of an attorney friend of mine, his wife gave him three instructions: Put-up, stand-up and shut-up.
Well, how did the InvestmentBuddy's plans work out?  Both of our daughters' weddings were beautiful, Spirit-filled, meaningful and large.  Several hundred guests attended both.  Several years have passed since the last ceremony, yet our family continues to hear that those two weddings were two of the best our town have ever produced.  Final hint from the InvestmentBuddy, it's not about the money.